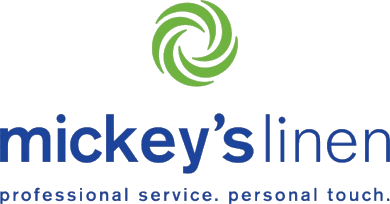 Mickey's Linen
4601 W. Addison St
Chicago, Illinois 60641
Contact: Cole Stone
Phone: 773-481-7267
Cell: 708-710-5987
Office: 773-481-7211
Fax: 773-545-7758
E-Mail: cstone@mickeyslinen.com
Website: www.mickeyslinen.com
Family owned and operated since 1930, Mickey's Linen is one of the Midwest's leading rental textile providers of traditional table linen, napkins, towels, aprons, and kitchen uniforms.
Mickey's Linen is a full-service commercial launderer servicing over 5,500 customers with superior quality, and reputable service throughout Illinois, Wisconsin, Indiana and Michigan. Our customers range from boutique neighborhood restaurants, to brand name food & beverage operators.
Additional Products:
Dust control (logo floor mats, mops) and restroom services (soap dispensers, skin care, paper products, hands free systems, air care).